PROMISE #8 ~ HIS PRESENCE
I am cruising along, feeling really good about the journey that I am on…
Floating down the stream… fingertips savoring this water of life.
I'm on fire, moving forward, scooping handfuls of wisdom…
It feels great.
Then…
This ripple in the water… a corner of the heart hardening… discontent, unforgiveness… just plain stubbornness.
A screeching halt.  He won't let the current move one bit farther… not one more ounce of wisdom, of peace… not one more inch of forward motion…
until I get it right
Getting it right… it really means giving it up.  Giving it up to God.
This, a continuous lesson for me.  Again and again learning to release.  I can't stay right with Him, until I stay right with His.
The further I get in this river of life, the more clear it becomes to me… this place of getting it right and giving it to Him ~ is for my sake.
He knows the depths of these hearts he has created for us more that we know them ourselves.  He knows what heals them, soothes them, makes them whole again.
In the moment I feel most confused, as though the stream is flowing backwards… In the moment I feel most lost, this is the moment He reminds me…
He will never leave me

He will never forsake me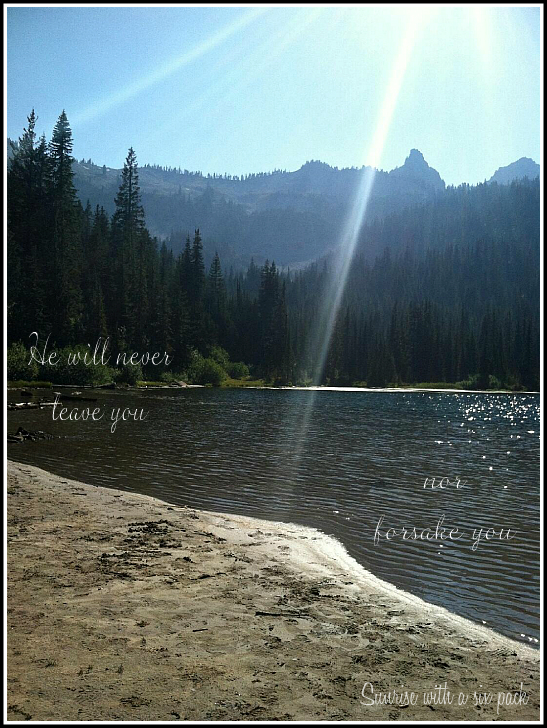 (Photo credit: the beautiful Cindy McGuire)
He will smooth the waters, turn the tides, and bring the river to a soothing flow ~ right back into His will…
into His arms.
PROMISE #8 ~ God will never leave nor forsake us.
Deuteronomy 31:6
Be strong and courageous.  Do not be afraid or terrified because of them, for the Lord your God goes with you; he will never leave you nor forsake you.