I'm standing at the end of the long road.
The road with twists and turns.  There were potholes along the way.  At times the road was straight… unremarkable.  There were hills… they sloped upwards to steep mountains.  Then, the road down… the exhilarating rush down… the side views but a blur.  This road well-travelled.
I'm standing at the end of this road.
He puts His hands on my shoulders and turns me gently around,
Look back

What do you see?
What if, when we get to the end of this life's road… what if God asks us to turn around?  Turn around and look at it.
What would you do differently?
Would you give thanks for the potholes… because when you climbed out, you appreciated the flat road?  Would you work harder to climb the hills, knowing that the mountains they might become… would burn?  Would you slow down on the downhill glide… and pay attention to what was standing on the side of the road?
I've been thinking about this…
What if I could live my life backwards?

What if I could turn around at the end… change it… do it differently?

What would I do differently?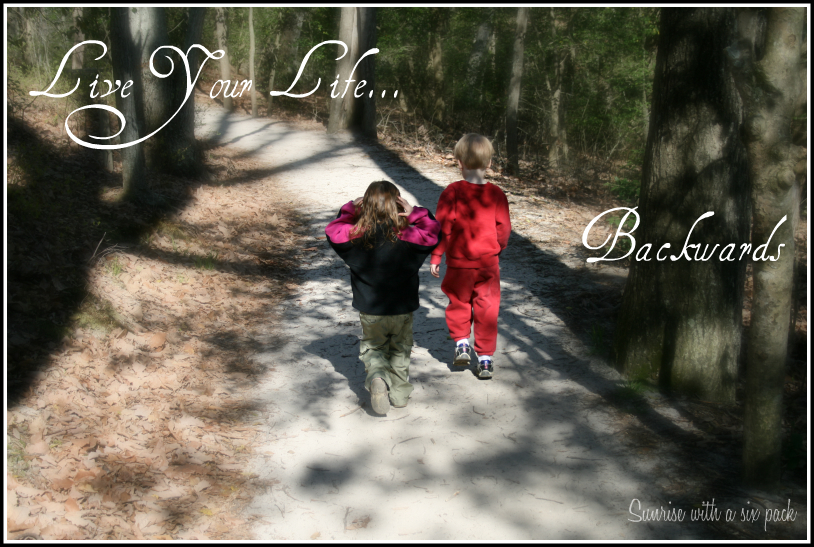 If I stood at the end of the road and looked back… what would I do differently?
Call my mom more
Run to the door and hug my husband every time he comes home
Turn off the TV
And the computer
Play dolls and dress up with my little girls… regularly
Play Legos… like I am 10 years old, and trains… like I am 5
Go running… alone
Take a walk… with my whole six pack
Clean less
Get a Facebook account… just to see what my brother is up to these days
Tell more people how awesome Jesus is, no matter how awkward I feel… because He is… and it matters that much
Rock my baby… just a little bit longer
Stay in touch with old friends… better
Buy less for Christmas… give more to those who can't
Show my kids that giving is WAY better than receiving
Write more letters… on real paper, with real pens
Say "in just a second…" and mean "in just a second…"
Go on more dates with my warrior
Take my kids on a date… one. by. one.
Pray more… on my knees
Read the Bible… every single day… with my kids
Assume less… ask more
Forgive… just forgive
Say "sorry" … and mean it
Accept "sorry" … and let it go
Ride a bike, with my little ones, while they are little
Spend more time at the beach
Play outside… instead of watching them through the window
Play board games… every time they ask
Have desert for dinner… on Fridays.  Because it's Friday.
Give thanks to Him… without ceasing
Say I Love You… every chance I get
Let my kids know that I don't have all the answers… God does.
Thank Him… that I can look back and still have time to do all this
What would you do differently?
If you are reading this…
you can.
Philippians 3:12-13
Not that I have already obtained all this, or have already been made perfect, but I press on to take hold of that for which Christ Jesus took hold of me.  Brothers, I do not consider myself yet to have taken hold of it.  But one thing I do: Forgetting what is behind and straining toward what is ahead