PROMISE #16 ~ GOOD (for those who love Him)
Feeling wrecked?
A little broken?  Slightly cracked?  Discouraged?  A bit more than rusty?
Feel like you could use a tow?
Like all the running and racing and trying… is getting you nowhere?
I do.
I'm pretty tired at the moment.  Staring at a screen, thinking of God's promises… wondering why I chose to pursue them… day after day… for 31 days straight.
I did know, of course, that I would find 31 and so many more.  I did know it would be a challenge to sit and focus for a piece of time every day.  I did know that… probably, somewhere in the middle of the journey… I would get worn, frustrated, just a little bit wrecked.
I prayed that when this time came… He would push me right on through.
please give me the extra adrenaline to race to the finish  
Legs numb, knees wobbly, heart stretched.
Well, no surprise, He just answered.
His repetition, His prompting, His words through an encourager… hook right up to my beaten frame… and pull.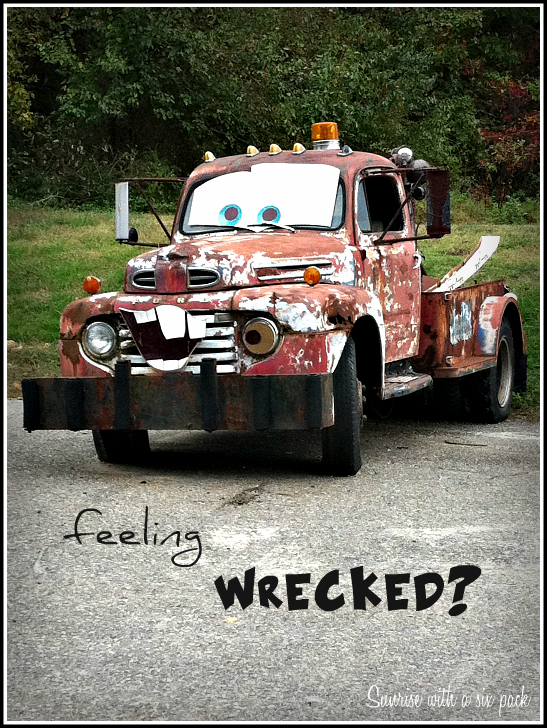 (by the way, Mater lives… and in our 'hood)
He allows my back wheels to spin… to feel the journey beneath me…
while He takes the burden ~ and steers.
Propped, pulled, and placed… right here.
For a much-needed tune-up.
He provides the fuel, the oil, and becomes the engine again.  Just after I let go of this wheel I am clinging to so tightly.
It really is all about the journey… and the destination.
Are you in a place that could use a tow and a tune up?
PROMISE #16 ~ God promises good for those who love Him.
Romans 8:28
And we know that in all things God works for the good of those who love him, who have been called according to his purpose.