#2 ~ PROVISION
12 hours.
1 truck.
6 kids.
2 parents.
2nd time.
1 week.
Road trip.
0 patience
1 definition of insanity.
I need some of God's promises…
The truth… the kids did great, after much anticipation and recollection of past (painful) road trips.  The kids did great.  God is good.
My warrior and I had plenty of time to catch up on thoughts, laughs, concerns, memories… all of this between passing bottles, crackers, sippy cups, sandwiches, cookies, movies, reprimands, praises, scowls, smiles… to the back of the red bullet flying down the highway.  (I really want to develop a pulley system… back and forth, back and forth).
During the peaceful times (thanks to Pixar), warrior husband and I were able to catch up… on all things related to worry.  You know, the things of finance, war, peace, future, and on and on…
Not long into our journey back home, we were both plagued by dormant frustrations that had reared their ugly heads.
I think He uses this to test our response.

To see if we are learning… moving forward… toward Him.
My warrior nodded in agreement.
Silently we pondered, while the rain began to drizzle from the southern skies, wheels spinning, headphone adorned children mesmerized.  Quiet.  Peace in our hearts… missing.
My thoughts called to Him.
I want to trust You.

I want to know You are here.  That You will provide for us.

I know You have time and again.  I am sorry I keep asking.  I want to trust You more.
My husband has this thing with God.  His many commutes back and forth to and from work… he sees God speak to Him…
on billboards and bumper stickers
You know, He speaks to us any way we will hear Him.  He knows where we are… heart, mind, body… every moment.
For my warrior… it's
on billboards and bumper stickers
I don't know why it amazes me every time… every. single. time.  I am blown away.  His presence.  His faithfulness.  His wooing.  His reassurance.  With Him… trust is rightfully placed.
Don't you know… 5 minutes into this journey northbound with our six pack… He made it perfectly clear.  Not once.  Not twice.
At least six times.  I lost count.
Just minutes after my thoughts stirred, my heart stirred… wanting so badly to battle the worries of this world…
I looked up.
Need Directions?  … God
Not a small sign.  On a tractor-trailer!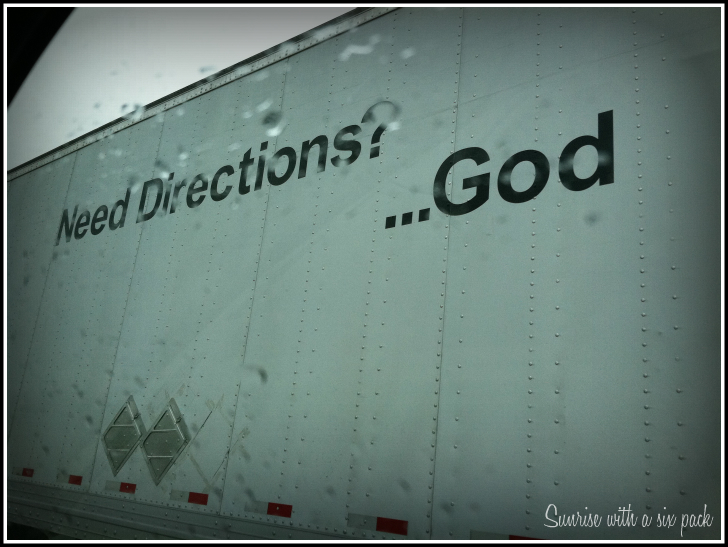 Then,
<><

Proverbs 3:5

(Trust in the Lord with all your heart and lean not on your own understanding)
On the same big rig.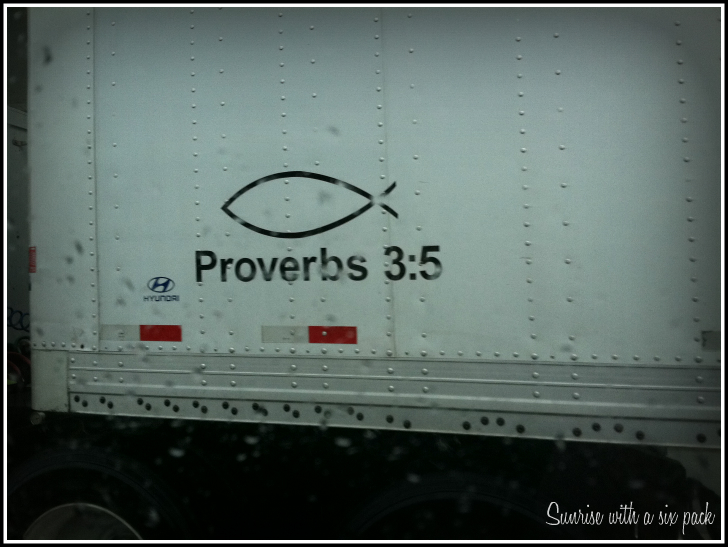 My warrior and I grinned at each other.
5 minutes later… just a few miles down the road…
A red car sped past us… a bumper sticker…
Need directions?  Ask God.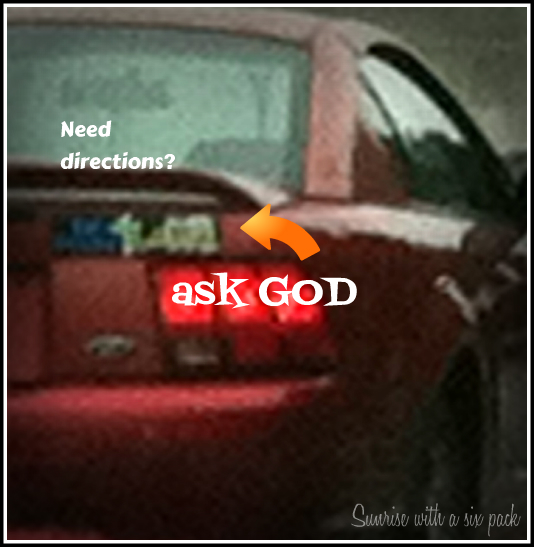 Are You kidding me?  We both laughed.  Ok, ok, we get it…
If there was any doubt, He was going to squelch it.
A few more miles down the road… a billboard… no, two billboards stacked upon each other…
Jesus.  I trust You!
Really?  We are that dense?
He knows we need Him that much.  He loves so much that He relentlessly pursues us, reassures us.
But, He was not finished yet.  Yet a few more miles and one more state line behind us… a sign, barely visible on a tree… on the side of the interstate…
No matter what,

Trust God.
We could barely make eye contact with each other.  We, waited… for the next one…
And another.  A billboard…
God loves you
Still, not enough… a family truck passed us by… a license plate
8 4Jesus
Just like us.  Our road trip with 8… our journey with our six pack.  All of us… for Jesus.
Just as I am pondering God's promises.  Just as my trust flickers, sparks, trembles in the wind.  Just then… He, full of grace and love… He reminds me to trust.  He will provide.  Every time.  All the time.  Without fail.  A promise.  Never broken.
PROMISE #2 ~ God will provide.
Matthew 6:31-34
So do not worry, saying, 'What shall we eat?' or 'What shall we drink?' or 'What shall we wear?'  For the pagans run after all these things, and your heavenly Father knows that you need them.  But seek first his kingdom and his righteousness, and all these things will be given to you as well.  Therefore do not worry about tomorrow, for tomorrow will worry about itself.  Each day has enough trouble of its own.