We sank down into the couch.
Coffee mugs in hand and kids run amuck through the house.
It doesn't take long to know when you've met a kindred spirit. The kind you can laugh with from that place deep in your gut. The one you can cry streams of mascara with, or better yet, wear no make-up at all. The one you can share stories with that are so poignant and profound, you both get goosebumps that won't quit.
I tend to tune the kids out at moments like this… maybe a little too well. My husband jokes it's an acquired skill. I held up my mug proudly,
Take a look at this.
The green mug inscribed with the words "You are an amazing woman."
Etched into the lip of the cup are the words "Many women have done excellently, but you surpass them all. ~ Proverbs 31:29"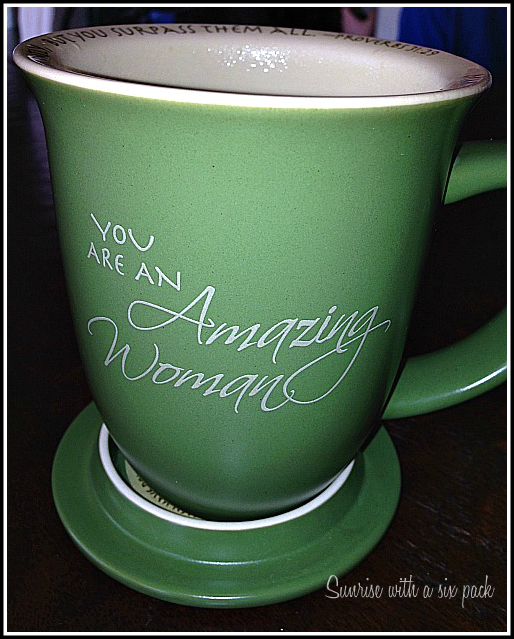 She smiled and tilted her head,
Aww.
I knew what she was thinking. A gift from my warrior. I laughed,
I got it for myself.
Her eyes widened and filled.  I smiled,
You know, sometimes we have to tell this to ourselves.
The mug was a Christmas present to myself. Shopping online for my warrior – who was in dire need of a Guinness hat with the bottle opener in the bill – I stumbled across the mug that beckoned from the screen. You are an amazing woman. I need to see that. I need to drink coffee from that cup.
Add to cart.
Sometimes we just need to tell it to ourselves.
We are quick to the punch when the punch is directed at our own faces.
We are quick to stamp "bad mommy" on our chests.
We are quick to beat up and bully and berate ourselves for all the little things we get wrong. And that is all wrong. We are amazing women. I didn't make it up. The words come right from the Source.
We are amazing and good. We fall and fail and mess-up and miss it… sometimes. But, we are amazing.
The mug doesn't say perfect. Just amazing. And that is all we need to hear – and read – today.
So, when you happen upon a Superman T-shirt in your favorite disposable clothing store – for, say, $7 – call it a Supermom shirt and wear it.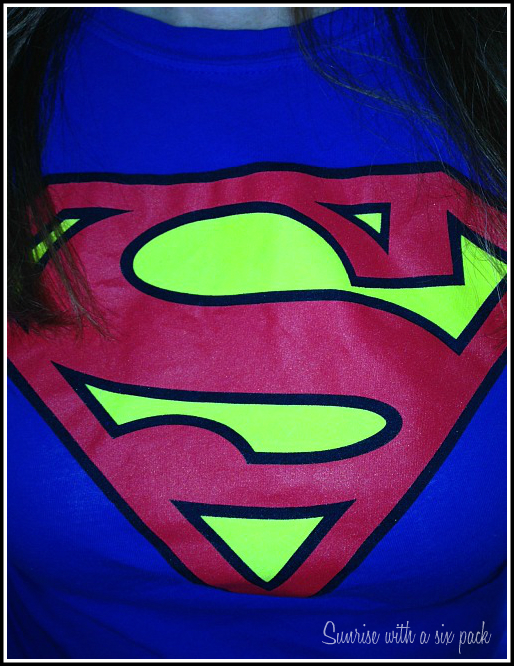 When your kids say "you're the best mom" – believe it.
When your husband says "you're awesome" – know it.
When your friends say "there is no one like you" – own it.
When… you don't hear any of these words from a single soul… listen to me… you are.  I didn't make it up.
When you see the mug that says "you are beautiful" or "you are the best" or "you are an amazing woman" – drink from it.
I didn't make it up. HE made you up – He doesn't mess up.
He made this jar of clay that is – you.
His cup is never-ending… let Him fill yours.
You are amazing.
Psalm 139:14
I praise you because I am fearfully and wonderfully made; your works are wonderful, I know that full well.