31 days of Good Deeds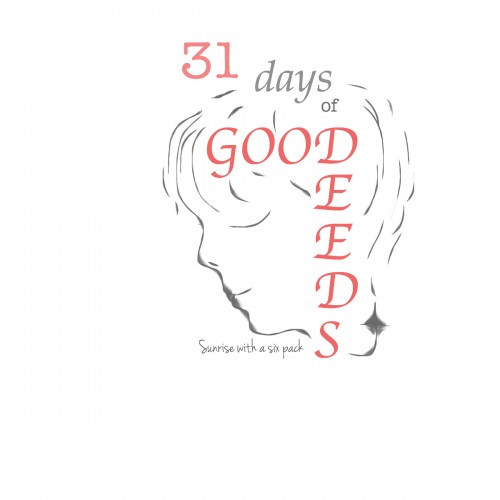 ~ Day 30 ~
I was expecting something.  Someone, really.
After weeks and weeks of eyes opening to people right in front of me – these people waiting with open hands – I've begun to expect.  I don't think they expect – I suppose a better word would be hope.  They hope someone will notice.
But, I was on a mission.  The gray hairs that force their way onto this mama's head had arrived… again.  One by one they show up and stand at attention.  Like little gray soldiers demanding the right to be seen after years of deployments, endless work hours… and six kids.  Well… and a little heredity thrown in, too.  
No matter.  It was time to subdue those determined (and multiplying) suckers.
Mission… hair dresser.
I was off and had no time for distractions during this sacred mama "me time."
I don't know how I ended up on that road.  It wasn't the road I intended to take.  You know that coma driving we do when there are no distractions.  I drove on in this grid-town.  You can get anywhere if you know how to drive a square.
I looked up and saw him.  He was an older man.  He shuffled back and forth next to the cars.  The red lights are the best places to get our attention.  We have to actually try to look away. 
I saw him wander back and forth as I glanced at the clock.  No time.  And, I drove on.
He registered in my mind as I drove past,
If You want me to stop for him, please remind me later.  I don't want to be late.
Hairs tamed, grays smothered, scalp massaged, and ends trimmed; I handed her the check.  She's a spunky local girl with a heart of gold and a lifetime of stories, though her life has been much shorter than mine.  I hugged her neck and went on my way – delighted that suffocating gray hairs is much cheaper in this town than the last.
It was then that He reminded me,
Go back to the guy at the corner.
I'm learning to listen, so I turned the truck in the direction of the old man with the cardboard sign.
I'll tell you, once you give once, it becomes something you want to do again and again.  As if He designed us to give… to love.
I was prepared to give the man a bill, when He interrupted my thoughts,
You know what you just paid for your hair?  Give him that much.
I can't say that I argued, but I did ask Him for clarification,
That much?  Is that what I should give? 
Truth, I had never handed someone a wad of bills like that… it's different went you write a check or swipe a card.
Do you only trust Me $20 worth?
And that's really where the truth lies.  Do I only trust Him 20 dollars worth – or as much as my comfort will allow?
I smiled as my hand began to shake.  I knew.  I didn't want to be that person.  The 20-dollar-truster… the only-this-much-but-no-more giver.
I pulled my car around to the light and rolled down my window.  I glimpsed his sign – Vietnam vet.  Please help.
What's your name?
A smile appeared on his weathered, tired face.  He could have been my father, my father-in-law, my uncle.
Jim.
Of course it was Jim.  Just another version of James.
Jim, I'm going to pray for you.  Thanks for your service.  I hate that you are standing out here asking for money.
He looked at the bills in his hand as his eyes widened,
Thank you!  Oh, God, thank you.
He walked away as I waited for light.  I saw him turn back in a hurry.  He had just counted his bills,
Oh my God.  Thank you!  What is your name?  You have no idea what you've just done for me.  I'm not getting my social security.  You have no idea.
I smiled as I felt my heart surge,
I wish I could give you more, Jim.
His teary eyes bore into mine as he replied,
Oh no.  This is just… unreal.  You are going to heaven, Karin.  I won't ever forget this.
There is something about giving, about doing good, that begins to transform a heart.  It shamed me for ever having been blind to people around me, and it reminded me of how much I have to be grateful for.  
My husband is a veteran.  My brother is a veteran.  My brother-in-law is a veteran.  My father is a veteran. This man, someone's family, is a veteran.
So, just when you think you know the whole of a story… God gives you more to take in.
Weeks went by.  Then, yesterday, of all people, I saw Jim.
He stood there on the corner, same sign in his hand, and waited.  Vietnam Vet.  Please Help.
Did you know that the US Department of Housing and Urban Development estimates that 62,619 veterans are homeless on any given night?  On top of that, about 1.4 million other veterans are considered at risk of homelessness due to poverty, lack of support networks, and dismal living conditions in overcrowded or substandard housing.
I rolled down my window and smiled at the familiar face,
Hi, Jim.
His eyes brightened as he beamed,
Are you Karin?  I've been thinking about what you did.  Do you know that you paid my rent for the whole week?
I grinned and answered,
I hoped it was for something like that.  I've been praying for you, Jim.  Why are you out here?
He leaned in and told me the story of his wife passing away, of things going wrong, of life turning upside down.
This is so embarrassing, you know.
I nodded,
Jim, you could be my dad, or my father-in-law, or my uncle.  Do your kids know you are here?
His eyes went to the ground as he shrugged,
Actually, my daughter told me to come out here. 
What do you say to that?  I looked into the old man's eyes and gave him a handful of rent.
Here, Jim, this will cover your rent this week.  I'll keep praying for you.
His eyes filled as he touched my hand,
Thank you, Karin, the prayers are working.  Things are turning around.  God bless you.  

I'm going home now.
I smiled as the light turned green.  Time to go.  He waved as I turned the corner.  My friend, Jim.  The veteran dodging homelessness on a street corner.  The man who dodged bullets for his country, now begging handouts on the street – at the urging of his daughter.
I'm not sure which wrecked me more.  A veteran serving, now begging; or a father sacrificing, now breaking.
I drove home to my warrior, my very own veteran.  The house bustled and brimmed with a daddy and his two sons… and four daughters.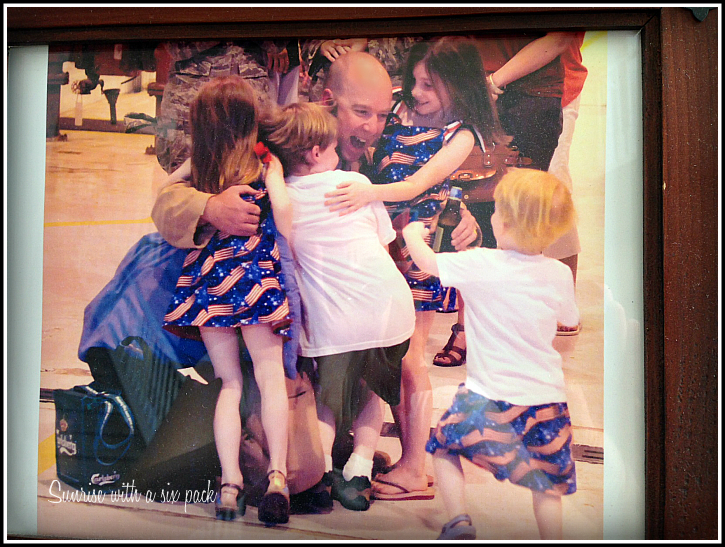 I watched those little ones wrap arm after arm around their daddy's neck, and I whispered to Him,
God, bless this veteran… and his children.  And, may his daughters never forget their daddy's sacrifice.
Happy Veteran's Day – and endless thanks to you and your families for your sacrificial service.
1 John 4:9-11
This is how God showed his love among us: He sent his one and only Son into the world that we might live through him.  This is love: not that we loved God, but that he loved us and sent his Son as an atoning sacrifice for our sins.  Dear friends, since God so loved us, we also ought to love one another.