PROMISE #17 ~ PROTECTION
Sitting in the waiting place.
Baby on my hip.  Toddler squealing circles around my legs.  Blue-eyed boy dashing from corner to corner.
The waiting place for moms and dads of all sorts and sizes, watching children jump, twirl, leap, flip, somersault… a general running amuck in gymnastics bliss.
Watching through the picture window ~ the best kind of reality TV ~ watching the young ones explode like lava from a temperamental volcano.  Oh, to have that kind of energy again…
Mama!  A sign!  Over there. 

It's so funny!
NO ONE IS ALLOWED ON EQUIPMENT WITHOUT SUPERVISION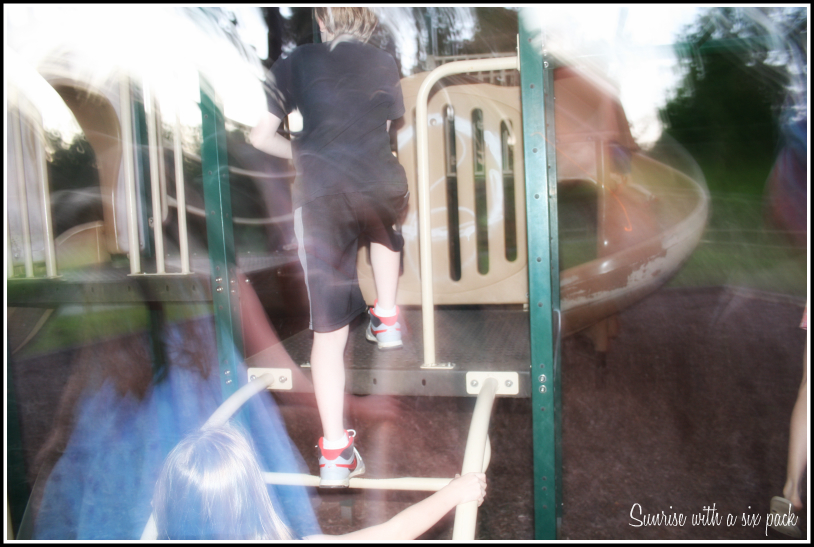 I smile at my exuberant gymnast, her eyes sparkling with laughter.
You get it?  "SUPER" vision?!  Like Superman!

They are making a joke!  Like anyone has "SUPER" vision…
She squeals away, leaping through the air… reminding me of how badly I really need to work-out more.
Now, she knows Superman well… many thanks to copper-topped 3-year-old sister.  I don't know too many three-year-olds with true affection for Superman (and I mean the Christopher Reeve one… episodes I, II, and III.  Over and over and over again).  Superman is well-known in our household.
The thought brings me to much-needed laughter this hour of the day.
Super vision.
No one is allowed on the equipment without it.
As is the case it with many, perhaps all, of us walking in the faith… spiritual attack surfaces from time to time.  Always at the most inopportune time.  Always attacking in the soft, white, underbelly… the most vulnerable of our hidden places.  Spiritual attack can render the soul… wounded.
In desperate need of supervision.
Just as I am struggling through a day of it… my little one points me to a sign.  One that reminds me that we are not alone.  We are under Supervision.  The only SUPER vision that matters in the end… and in the beginning… and in the middle.
Not one of us is left on this equipment here… without Super… vision.
PROMISE #17 ~ God is our protection.
Psalm 5:11-12
But let all who take refuge in you be glad; let them ever sing for joy.  Spread your protection over them, that those who love your name may rejoice in you.  For surely, O Lord, you bless the righteous; you surround them with your favor as with a shield.