PROMISE #31 ~ ETERNAL LIFE
She wanders over to me, this 9-year-old sweetheart, and shows me…
Look, Mom, I want to draw something for you.
Hm, I whisper softly, distracted by some other something else.
I'm going to draw something that I know.
She goes to work, penning carefully… the design flowing from her young mind.
Studiously she creates the image, and begins to explain.
Look, Mom, here is where we are.

On this side.  We are standing on a cliff.

See, here is a big gap.  There, there is the other side,  the other cliff.

The gap is just too big for us to jump.

There, on the other side… that's God.

We can't get to Him…

because He is perfect…

and we are not.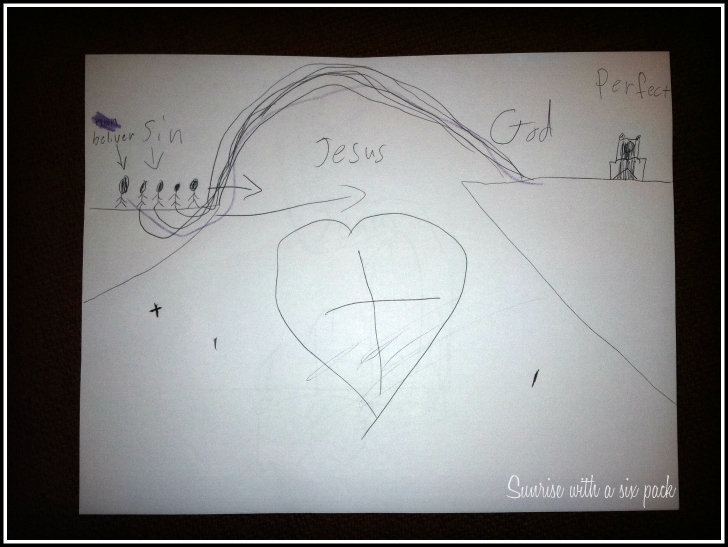 My preoccupied mind, now rapt with attention.  This young girl, heart wide open… continues.
We were separated from Him.

But, look.

There in the middle.  There is Jesus.

It's because of Him… because of Him, that we can go to God.

See.
She sketches the child drawing… and etches her mama's mind.
It's that simple.  See.
So simple a child sees it… sees it so clearly, that she can take pen to paper… and draw it.
Drawn out for the world to see.
Her sparkling chocolate eyes, lit with fiery love… look into mine.
There.  That's how we get to God.
Another voice breaks my thoughts, my gaze, my wonder at the faith of a child.
Well, it's a good thing I know exactly where I'm going.

I'm going to heaven.
A gleeful younger sister chirps from the side.  Flinging smooth locks over her shoulder… and skipping away.
That's it.  So simple a child can draw it, see it, know it.
Just because He says so.
This faith drawing me lower… to go higher.
Right to the face of the Father.
Just by believing.
This journey of promises.  31 days of seeking His word.  It culminates here.  
Between two cliffs.  Standing in the gap.  On His grace.  Mercy.  Promise.
PROMISE #31 ~ God promises us eternal life, with Him.  Eternal Life.  Just for believing Him in His promise.
John 6:46-48
No one has seen the Father except the one who is from God; only he has seen the Father.  I tell you the truth, he who believes has everlasting life.  I am the bread of life.