I was the only girl.
An entire generation – on both sides of my family. I could look for miles and miles – across an ocean – and I was the only one.
I suppose that's one thing that brought me right up against my mother's hip most of my childhood.
I could hang with the boys and I never felt a lack for anything girlish. My time with dolls and tea sets was just a little time all to myself. And I've always liked a little time to myself.
The only girl.
And then He gave me four daughters. How funny He works things in His own time.
But before I had daughters, I had the sisters my brothers brought into my life.
And then the babies. My nieces. One by one – I wasn't the only one anymore. The scale seemed to settle while my heart filled. We women need each other.
My mother. She went home to Him just 21 days ago. And I've counted every one. I can see the minutes etched into my dad's sorrow-filled eyes.
But there will be time for those words later. Sometimes thoughts need time to simmer. The words floating around find each other and make sense eventually. But, not yet. I'll etch those words a little bit later.
This is about the women. The ones who trickled into my life one-by-one. One generation at a time.
And this day is about the next generation. The ones my mom is smiling on this very moment. She is beaming. Every time she looked into the faces of her grandchildren, she was beaming.
This is the season of change. Graduation time.
Nieces and nephews, these delights of our hearts, are walking the stage one-by-one. Diploma in hand – beaming.
More overwhelming than the pride I take in these souls is the gratitude. The gratitude for the gift of daughters and nieces who saw the woman I saw when I looked into my mother's eyes.
There is nothing in this world more binding than sharing this love with my daughters, and my nieces.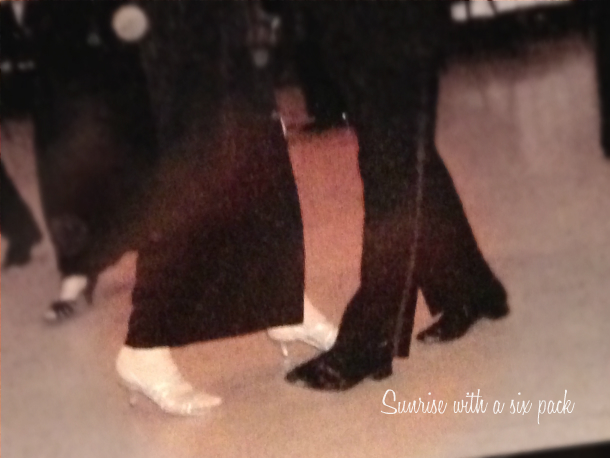 These are the words penned by my beautiful niece Caroline. Our Mutti is smiling on her and her sweet sister, and all the rest of us – from Heaven. This I know.
Dancing With Großmutti
            Drop. Kick. Smile. Every time the yo-yo drops to the floor she attempts to kick the string. Each attempt brings a smile to her face. Drop. Kick. Smile. Drop. Kick. Smile. When her foot actually makes contact with the string, the yo-yo clatters to the floor, and she begins to laugh. I squeeze my eyes shut, hiding the salty tears that threaten to spill onto my cheeks, and I laugh with my eighty-four-year-old grandmother, cherishing this simple moment.
Großmutti suffers from senile dementia. My moments with her are rarely simple. In one moment, she will be regaling me with tales of her childhood, her eyes devilish as she remembers young mischief. In the next moment, she will not know if she's speaking to me or my mother. My heart breaks when I see a new wave of confusion cross her face, crushing her train of thought. The flow of conversation halts in its tracks, and soon Großmutti begins jabbering at me in German despite my insistence that she must speak English. English. Was? English. Was? English. Was? The German jargon continues as do my pleas for English, but, then, as suddenly as the wave of confusion came, coherence returns, and Großmutti laughs at herself, exclaiming that she merely forgot for a moment that I do not speak German. This pattern continues. Conversation. Confusion. German. Gespräch. Verwirrung. Mehr Deutsch. Großmutti's moments of confusion are increasing in number, but, unfortunately, I am not becoming any more fluent in German.
Interspersed with Großmutti's instances of bewilderment are instances of sheer genius. Not even the most difficult of Sudoku puzzles stands a chance against a spectacled Großmutti and a freshly sharpened pencil. Not even the most keen, most clever, most determined challenger can dethrone Großmutti, the queen of chess. Großmutti may not be able to recall the names of the neighbors, but she can certainly name their birthdays, their children's birthdays, and their children's children's birthdays. Großmutti's true genius, though, lies in dance.
Großmutti and dancing. Dancing and Großmutti. They are truly one in the same. A visit to Großmutti's house would not be complete without a twirl around the living room, gliding through the steps of a Viennese Waltz. She can teach me the steps to every tango she has ever tangoed and every Foxtrot she has ever trotted. Her heart pumps to the beat of a lively German polka, and her eyes shine bright with the excitement of watching her grandchildren jig the jitterbug. No medicine can make Großmutti feel the way that a good waltz can. No pesky clouds of confusion can interrupt Großmutti in her recollections of dance darling-hood.
The joy of dancing with Großmutti is infectious. No one can escape Großmutti and her polka music. If the cheery beat of an accordion does not draw you to the dance floor, then Großmutti certainly will. Whether you are marching to the music of a polka band or jiving to the music of laughter, you will be dancing.
Großmutti's polka music has led my happy feet to a happy place – a local senior retirement home. There, I play the piano for the residents. As my fingers dance across the keys, I imagine Großmutti dancing in the audience. The same upbeat tunes that tickle the ears of my audience guide the quick steps of the dancing queen. As the familiar melodies swirl about the room, bringing happiness to my little audience, Großmutti twirls across the shiny, wooden floor, finding her own inner peace. Her white orthopedic sneakers are replaced by a pair of shimmering high heels, and her bulky wool sweater transforms into a long, flowing gown. In the soft glow of a spotlight, Großmutti glitters, dazzles, she enchants. Long after the final note of the piano rings through the air, long after the audience has vanished, Großmutti continues to dance. Step. Spin. Dance.
Caroline
Yes, sweet Caroline. Step. Spin. Dance. No longer a captive to her confusion. No longer confused about who does and does not speak German in this crowd. She is dancing. She is applauding – as you dance and spin across that stage and onto the next dance floor of your life.
She is beaming. And I can almost hear her whisper,
Remember to dance…
Ecclesiastes 3:1-4
To everything there is a season, A time for every purpose under heaven: A time to be born, And a time to die; A time to plant, And a time to pluck what is planted; A time to kill, And a time to heal; A time to break down, And a time to build up; A time to weep, And a time to laugh; A time to mourn, And a time to dance…