The rotors whirled above my head. Funny, if you look at them for a moment – they appear to be barely moving.
This slow motion spinning; each blade defined as it slices through the thin air. The sun glints off the steely metal. The beating heart of these blades – a steady thump-thump-thump. My warrior laughs,
5000 moving parts – all trying to fly away from each other.
We are that sometimes. Flying and moving and spinning – flying away from each other, but held by an invisible force. Then a blink, and again they slice the sky with clear-cut precision. A million whirls a second.
And I look down into her eyes, blue as the azure sky; she blinks and this innocent gaze slices right to my mother heart. The whirling, when we stop for a moment to focus, seems to slow to a steady thrumming in the air. It's when we lose our locked gaze that suddenly the moments spin to a dizzying speed.
During the brief, the commander warned us,
Walk in at 90 degrees. Keep your head straight and your arms down. And walk in at 90 degrees.
Just a few steps to the front and the blades could slice. Too far to the back and the heat will incinerate. And I wonder how many times we skim past the slicing blades before we listen. How close to the inferno will we step before we heed the warning. Walk in at a 90 degree angle. Straight in. There is safety straight ahead.
And I climbed into my seat.
In the belly of gray steel I anticipated the moment this bird would hover above the earth by only a small measure. The familiar fear of heights strangely lost its hold as we slowly lifted into the air. This sudden levitation – exhilarating. And a relief. A moment to do nothing but sit, and float, and gaze.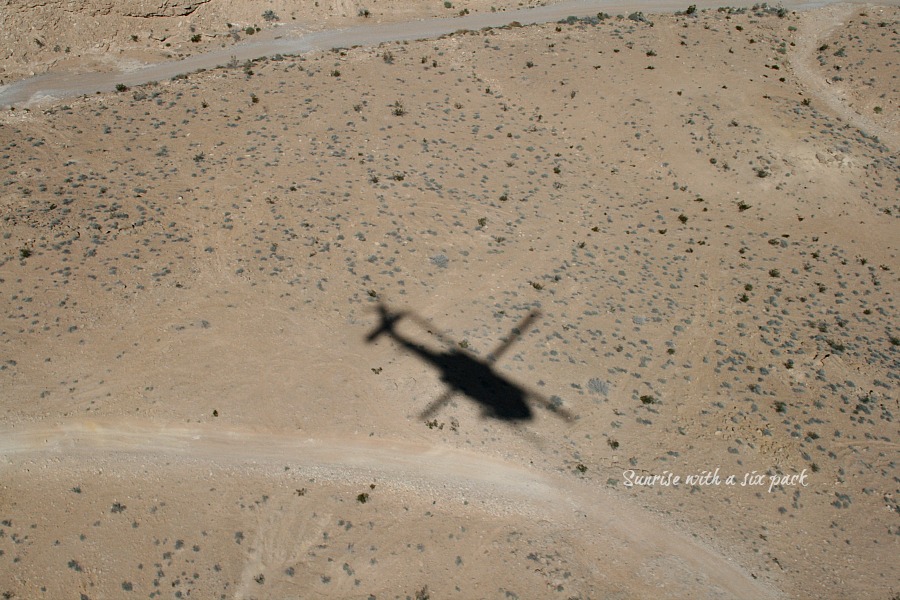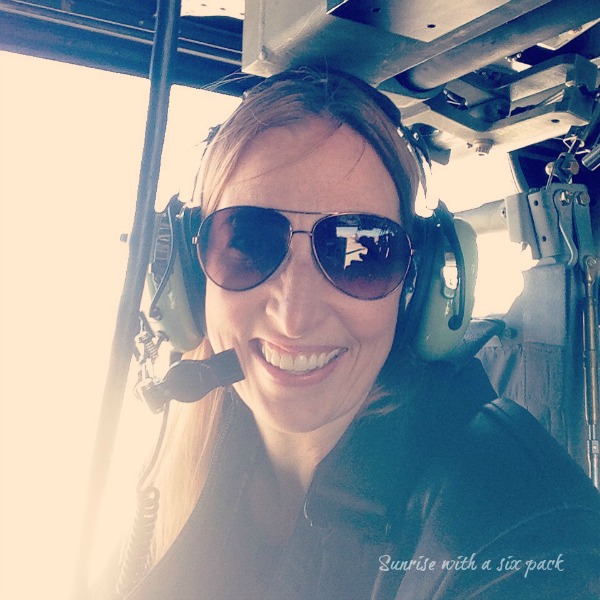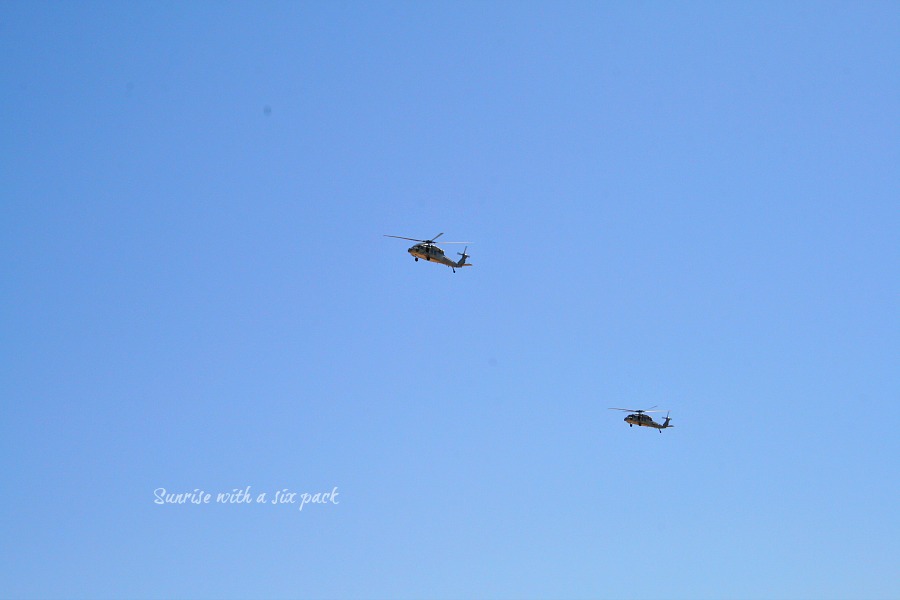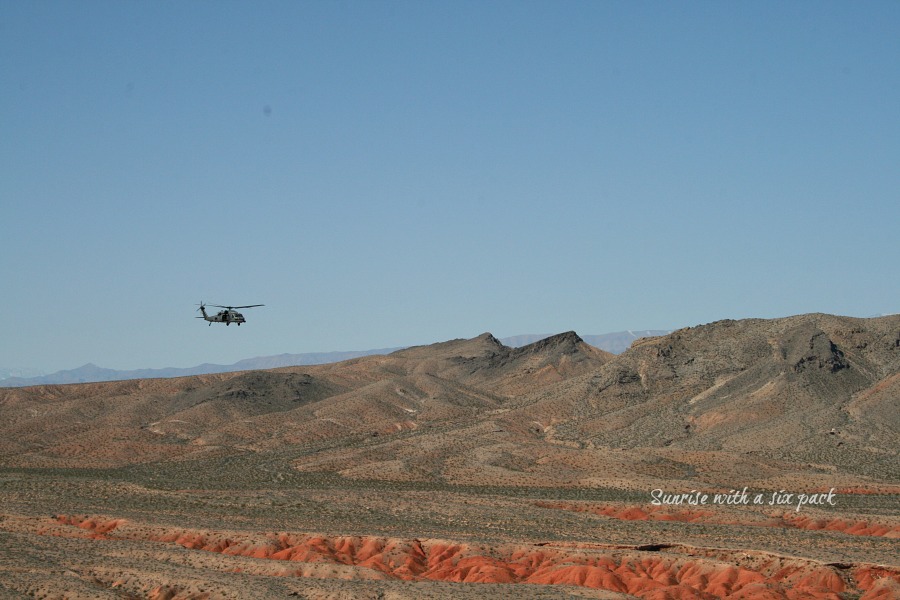 The forward motion like surfing on the wind. I peered over at the city – stiff and glitzy in the distance. The rat-tat-tat of chopping atmosphere leaving the false promises of glittering domes behind. Beneath us, I watched desert turn to rock and a fire-red rose from the distance. This valley of fire mesmerizing from the safe hover above.
I closed my eyes and imagined the men with legs hanging from the side. Poised with battle armor and pounding hearts. My eyes followed the winding scratches of road below and I wondered what it must look like to them. To see roads covered in debris and desperation and despair – all the while praying to God they might see the gentle hills of home again.
The lost city passed below us. Just remnants of flooded homes and washed memories. This city drowned to make way for the body of water. The parched land and receding water revealing what once was. And I just read they think they may have found Jesus' childhood home. Buried deep beneath a convent – in the middle of a war-torn world.
Just the foundation remained below our hovering eyes. All the rest had washed to days gone by. And I smiled. Because there can always be something new if the foundation remains. The stones pointing to the sky like arms raised in solidarity. They had weathered a storm and remained to whisper the tale of days drifted to memory.
The dip and turn took my breath. Leaned toward the earth I marveled at how we can float in this space and hang just above the earth. We can hover for a moment feeling like we may fall from the sky, but keep our shoes 500 feet from the ground. Safe. And I wonder if we really shouldn't get our feet a little bit dirtier.
The glistening water the color of jade wrapped along the angled shore. I peered straight down to the bottom of the rippling water and heard that familiar whisper,
All this. By My hand. It leaves no room for doubt – does it?
And I don't. Doubt, that is. Just sometimes we must transcend the situations. We have to hover above to really see. Only then can we inhale, rest, and know. The beauty in the design points to the beauty in the purpose. Sometimes we have to go through the valleys of fire to get there.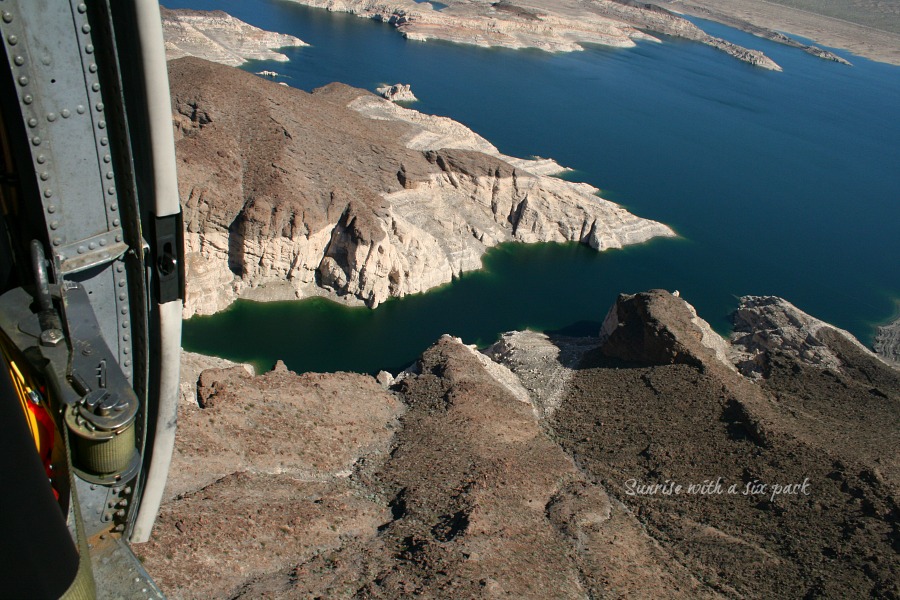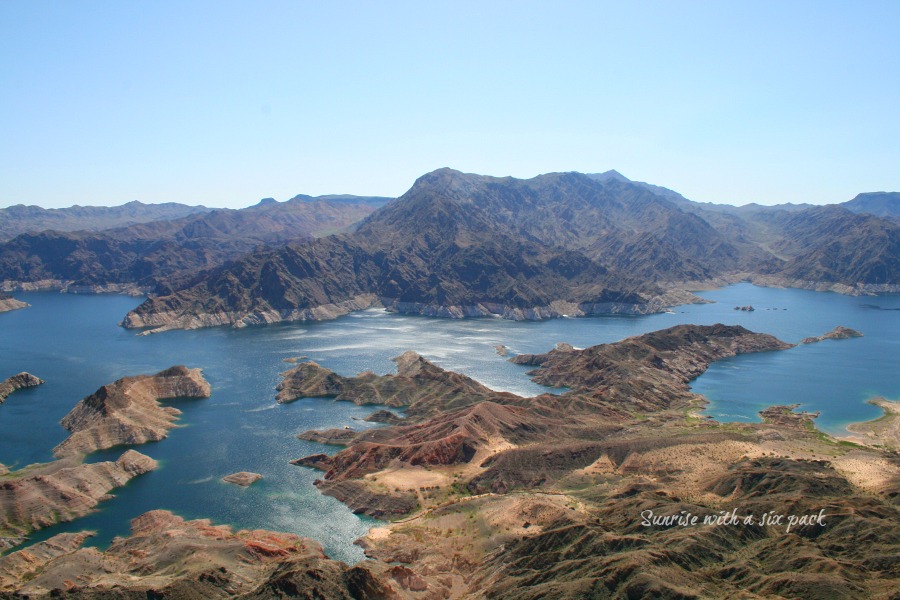 Then the looming city appeared again in the distance. This sort of oasis of false promises. This adult Disney World. Where what happens here stays here. But, see, nothing really does. It doesn't stay. It spreads and I suppose we have to decide what we want to spread. And if we don't – it will be spread for us. Whether we like it or not.
The thump-thump-thump of the blades a steady reminder that all these 5000 moving parts trying to fly away from each other – all these wandering souls – are really trying to touch something closer to heaven.
I stopped writing here, just for a few days. Then I heard the news. This very machine that gently brushed me past mountain peaks, dangled me above a lost city, and through a valley of fire – a hawk just like this whirling workhorse – went down.
And my heart sank. Eleven lost they say. The numbers run across the screen and our heavy hearts pray for families we don't know by name or face, but whose lives are different chapters of the same story. This small fraction of a nation who knows more than what sacrifice looks like. This fraction who knows the thrumming of aching hearts as rotors, or jet engines roar in our ears – and fade out of sight. These who know the lingering smell of jet fuel and grease-stained hands. The ones who know the faces of questioning children when we scramble for coherent answers – but don't really know ourselves.
And I remember the weightlessness and peace in floating above this earth – this feeling a warrior wife only tastes for a sweet moment.
All these 5000 moving parts trying to fly away from each other. And these eleven souls – trying to touch something closer to heaven – flung straight into the arms of God. May their families find comfort in those same arms that hold us all.
Psalm 144:3-8
Lord, what is man, that You take knowledge of him? Or the son of man, that You are mindful of him? Man is like a breath; His days are like a passing shadow. Bow down Your heavens, O Lord, and come down; Touch the mountains, and they shall smoke. Flash forth lightning and scatter them; Shoot out Your arrows and destroy them. Stretch out Your hand from above; Rescue me and deliver me out of great waters,
From the hand of foreigners, Whose mouth speaks lying words, And whose right hand is a right hand of falsehood.